Book Mercedes Vito: The Perfect Choice for Your Oxford Travel Needs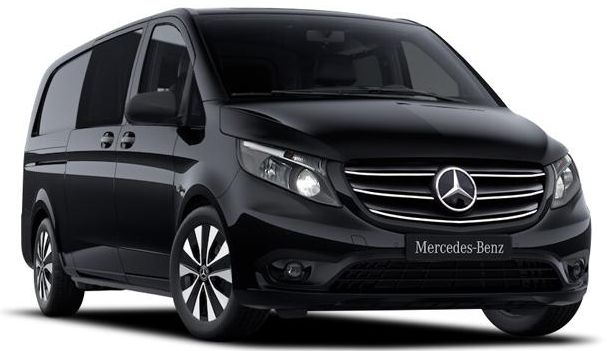 Jul 06, 2023
Author: admin borjan
1. Introduction: The Convenience of Booking a Mercedes Vito
When it comes to transportation services in Oxford, Borjan Taxi Service stands out for its commitment to providing top-notch vehicles and reliable chauffeurs. The Mercedes Vito, a versatile and elegant choice, offers a range of features that make it perfect for various travel needs.
2. Spacious and Comfortable Interiors
One of the key advantages of the Mercedes Vito is its spacious and comfortable interiors. Whether you're traveling alone, with your family, or in a group, the ample seating and legroom ensure a pleasant and relaxing journey. The luxurious upholstery and well-designed cabin enhance the overall comfort, making your ride enjoyable throughout.
3. Advanced Safety Features
Safety is a top priority when choosing any transportation service. With the Mercedes Vito, you can have peace of mind knowing that you're traveling in a vehicle equipped with advanced safety features. From state-of-the-art braking systems to stability control and multiple airbags, every aspect is meticulously designed to prioritize your safety.
4. Professional and Experienced Chauffeurs
Borjan Taxi Service takes pride in its team of professional and experienced chauffeurs. Trained to deliver exceptional service, the chauffeurs are courteous, punctual, and well-versed in navigating the streets of Oxford. Their extensive knowledge of the city ensures that you reach your destination promptly, taking the most efficient routes.
5. Affordable Pricing Options
Booking a Mercedes Vito doesn't mean compromising your budget. Borjan Taxi Service offers competitive pricing options, making luxury travel accessible and affordable. You can choose from various packages tailored to suit your specific requirements, whether it's a short trip within the city or a day-long excursion.
6. Flexibility for Various Travel Requirements
The versatility of the Mercedes Vito makes it suitable for a wide range of travel needs. Whether you're attending a business meeting, planning a wedding, going on a sightseeing tour, or simply need a reliable mode of transportation, the Mercedes Vito can accommodate your requirements with utmost flexibility.
7. Seamless Airport Transfers
Arriving at an airport and reaching your destination hassle-free is essential for a smooth travel experience. With Borjan Taxi Service and their Mercedes Vito fleet, you can enjoy seamless airport transfers. The chauffeur will be waiting for you at the designated meeting point, ready to assist with your luggage andensure a comfortable journey to your desired location in Oxford.
8. Ideal for Business Travel
For business travelers, the Mercedes Vito offers the perfect blend of comfort, style, and functionality. With spacious interiors and amenities like Wi-Fi connectivity, you can catch up on work or prepare for meetings while on the go. Impress your clients and colleagues with a luxurious and professional transportation service.
9. Exploring Oxford's Attractions in Style
Oxford is a city renowned for its historic landmarks, picturesque landscapes, and cultural heritage. When exploring the city's attractions, traveling in a Mercedes Vito adds an extra touch of elegance and style to your experience. From visiting the world-famous Oxford University to exploring the beautiful gardens and museums, your journey will be as memorable as the destinations themselves.
10. A Reliable and Punctual Service
One of the standout features of Borjan Taxi Service is its commitment to reliability and punctuality. When you book a Mercedes Vito, you can be confident that your chauffeur will arrive on time, ensuring you never have to worry about delays or missed appointments. The reliability of their service sets them apart and makes them the preferred choice for discerning travelers.
11. Booking Process Made Easy
Booking a Mercedes Vito with Borjan Taxi Service is a hassle-free and convenient process. You can easily make a reservation through their user-friendly website or by contacting their customer service team. The responsive staff will assist you in choosing the right package and addressing any queries or special requests you may have.
12. Customer Reviews and Testimonials
Don't just take our word for it - the satisfaction of previous customers speaks volumes about the quality of service provided by Borjan Taxi Service. Numerous positive reviews and testimonials highlight the professionalism of the chauffeurs, the comfort of the Mercedes Vito vehicles, and the overall excellent experience offered by the company.
13. Sustainability and Environment-Friendly Transportation
Borjan Taxi Service acknowledges its responsibility towards the environment and promotes sustainability. By choosing a Mercedes Vito, you're opting for an eco-friendly mode of transportation. The vehicles adhere to strict emissions standards, ensuring reduced carbon footprint without compromising on performance or luxury.
14. Exploring the Surrounding Areas
Beyond the city limits of Oxford, the Mercedes Vito allows you to explore the surrounding areas with ease and convenience. Whether you want to visit the charming Cotswolds villages, venture into the lush countryside, or embark on a day trip to nearby attractions, the Mercedes Vito will be your reliable companion for unforgettable journeys.
15. Conclusion
Booking a Mercedes Vito with Borjan Taxi Service guarantees a superior transportation experience in Oxford. With its spacious interiors, advanced safety features, professional chauffeurs, and competitive pricing options, the Mercedes Vito surpasses expectations in every aspect. Whether you're a resident or a visitor, make your travel comfortable, stylish, and hassle-free by choosing the Mercedes Vito.
---
FAQs
1. How do I book a Mercedes Vito with Borjan Taxi Service?
Booking a Mercedes Vito is easy and convenient. You can make a reservation through their website or by contacting their customer service team directly.
2. Are the chauffeurs experienced and professional?
Yes, Borjan Taxi Service prides itself on its team of professional chauffeurs who are experienced and knowledgeable about the Oxford area.
3. Can I book a Mercedes Vito for business travel?
Absolutely! The Mercedes Vito is an excellent choice for business travel, offering comfort, style, and amenities like Wi-Fi connectivity.
4. Is Borjan Taxi Service environmentally conscious?
Yes, Borjan Taxi Service is committed to sustainability and offers environmentally friendly transportation options, including the Mercedes Vito.
**5. Can I exploreother areas outside of Oxford with a Mercedes Vito?
Certainly! The Mercedes Vito provides the flexibility to explore the surrounding areas, such as the Cotswolds villages or nearby attractions, ensuring a convenient and enjoyable travel experience.