VIP & CHAUFFEUR
We offer our VIP chauffeur service for wedding hire, airport transfer, prom night, corporate events, business tours, hotel transfer, station transfer, red carpet event, VIP event, college reunion and mid-city travel. Our team of professional and most practiced chauffeurs are vigilant to provide the timely punctual service at all the destinations. We provide state of the art vehicles from the world's most famous brand. The cosy leather seats and fast air conditioning of Mercedes-Benz E Class and Viano always provide the chance to get a relaxed and stress free ride.
A chauffeur car service can be booked 24/7 via an email or free telephone number. We pay special attention and care for the maintenance and repairing of vehicles, so that a client has not to face any problem during travel on the road. Our cars are featured with security system, climate control, navigation system, music system, powered AC and sensor technology. We arrange a team of professional and most experienced chauffeurs that are certified from the government institution. They are smart well dressed and well aware with picnic spots, public places, traffic conditions, significant landmarks and external and internal routes of the city.
Easy booking

Book via email, call or whatsapp

clean & pro

Clean cars, professional drivers

punctuality

Always on time and Friendly
Benefits with us

Easy Booking
Book via email, call or whatsapp

5 Stars Drviers
Licenced & experienced drivers

Punctuality
Always on time & friendly

Clean & Pro
Clean cars, professional drivers

Pay by Card
Pay in car by debit or credit card
Open Account
30 days credit & pay monthly
VIP & Chauffeur hire
Hiring a chauffeur for a day with Borjan can offer a range of benefits, including:
Luxury and Comfort:We provide luxury vehicles only that are equipped with comfortable seating and amenities such as air conditioning and Wi-Fi.
Reliability and Trust: This is our daily job. We guarantee reliability to our clients. Our chauffeur services are more reliable than other forms of transportation, with professional drivers who are experienced in long-distance travel.
Door-to-Door Service: Our Chauffeur services offer door-to-door service, which eliminates the need for passengers to navigate public transportation or park at their destination by risking their car stolen or damaging.
Flexibility & Convenience: Having a Borjan chauffeur for the day eliminates the need to drive, navigate unfamiliar areas or find parking, allowing the passengers to relax and focus on the reason of their trip. Our flexibility in terms of route and schedule, allowing passengers to make stops or detours along the way as needed.
Productivity: Our Long-distance chauffeur services allow passengers to make the most of their time by using the travelling time to be productive or relax, it also eliminates the stress of driving.
Safety: Our chauffeur services ensure the safety of passengers during the trip by providing them experienced and professional chauffeur and high-end Mercedes executive car.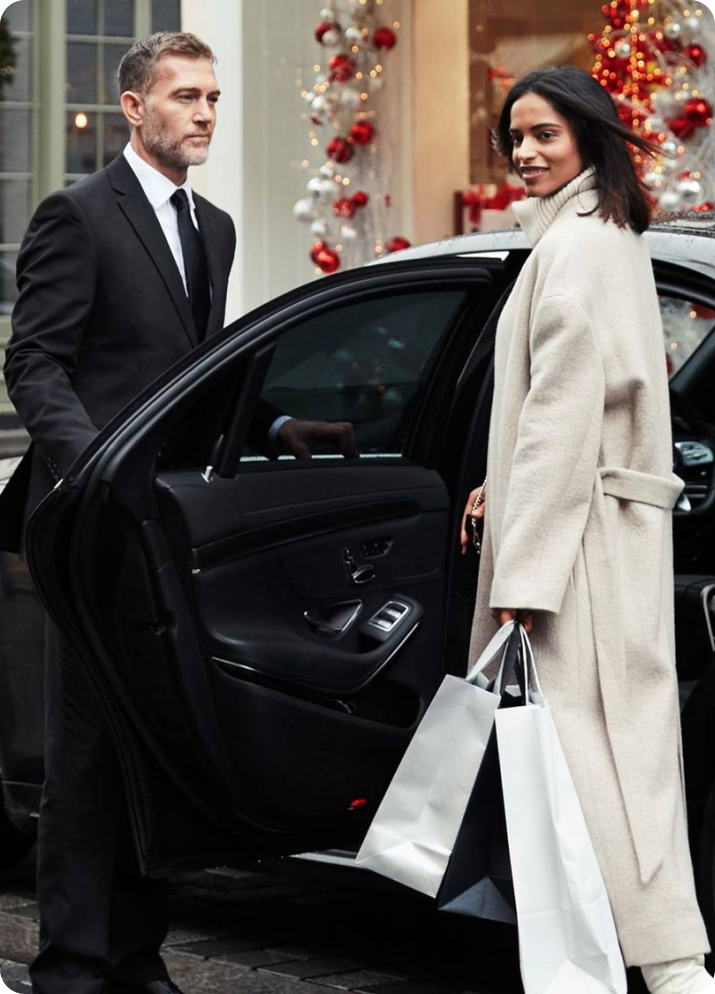 important information
airport
pick-up
Meet and Greet Service We wait for customers at the arrivals hall with their name board. Our Driver contact by call, text message, or WhatsApp to the passenger when He/She lands.
stations
pick-up
We require passenger mobile number so the driver can setup the meeting point becasue it's difficult to park near stations.
CRUISE PORTS
pick-up
We require passenger mobile number so the driver can setup the meeting point becasue sometimes it's difficult to find parking space around the ports.
drop-off
Our drivers text the passengers 24 hours in advance to confirm the pick-up location date and time. Our drivers usually 5 to 10 minutes early at the pick-up point.