UNACCOMPNIED MINORS
All the drivers that we have are DBS police checked. We fully understand the fact that both parent and child are bound to worry when they let their kids fly alone. In order to sort out your worries, we have established the Unaccompanied Minors service that is designed for young passengers that are travelling with us. We are dedicated to ensure that the kid is treated to a seamless and hassle free journey right from the time you leave them in our hands to when you come for them. Our friendly and helpful staff will definitely take great care of them. It is your responsibility to organize and pay for the chosen airline of the unaccompanied minor. You can contact the airline of choice for details such as costs, age restrictions and the regulations that guide the travel. It is recommendable to book the airline in advance. You should also mention to them that we are the chauffeurs designated to provide the guardian services for your minor.
Easy booking

Book via email, call or whatsapp

clean & pro

Clean cars, professional drivers

punctuality

Always on time and Friendly
Benefits of booking our
um

service

Easy Booking
Book via email, call or whatsapp

DBS CHECKED DRIVERS
Licenced & experienced drivers

Punctuality
Always on time & friendly

Clean & Pro
Clean cars, professional drivers

SAFETY & TRUST
Pay in car by debit or credit card
Open Account
30 days credit & pay monthly
THE COMPANY YOU CAN TRUST
An unaccompanied minor taxi service refers to a service that provides transportation for children and teenagers who are traveling alone including airport transfers, school runs, and long-distance journeys. These services are designed to ensure the safety and comfort of the child during their journey. It's always important for us to ensure that you get the best service and price for your needs.
Peace of Mind: Parents can have peace of mind knowing with Borjan that their child is being transported by a reputable and reliable service, rather than having to rely on public transportation or an unknown driver or company. You have total peace of mind with us as we are a well-renowned company in Oxford. Knowing that children are being transported safely to and from school provides parents with peace of mind, allowing them to focus on their work or other responsibilities.
safe
reliable
renowned
DBS Checked Drivers: The drivers are DBS-checked and are trained to work with children. We provide unaccompanied minors with child safety seats too.
Dedicated Service: Borjan offers a dedicated unaccompanied minor service, providing a personal escort for children and teenagers during the airport check-in process.
Education Badges: The drivers are DBS-checked and have undergone extensive training by Oxfordshire County Council.
Safety and Security: Borjan provides a safe and secure way for children to travel alone, as the drivers are trained and experienced in dealing with young passengers.
Professional Drivers: Drivers are trained and experienced in dealing with your students and are familiar with the routes and traffic laws.
Door-to-Door Service: An unaccompanied minor taxi service by Borjan provides door-to-door transportation, eliminating the need for children to navigate public transportation on their own.
Communication: Our unaccompanied minor taxi services have a system in place for parents to communicate with the driver during the journey, ensuring that the child is safe and on schedule.
Flexible Scheduling: We offer flexible scheduling options, making it easy to book transportation for children even on short notice.
Child-Friendly: We offer child-friendly vehicles, equipped with child safety seats and other features to ensure that children are comfortable and safe during the journey.
Professionalism: We offer a professional and reliable service, ensuring that children are well taken care of and treated with respect, making the journey as smooth as possible.
important information
AIRPORT
CHECK-IN HELP
Once you booked our service, our driver will take your child to the airport check-in desk to help him with the check-in process, fill out the form, and wait for the airport staff to come and collect your child. Once all relevant processes are done, our driver will wait until the plane departure.
AIRPORT PICK-UP
Once you booked with us, we will share the driver's name, contact number, and ID. We understand you require these details to book a flight so the airline can hand over the unaccompanied minor to the correct driver.
Special support with escort
We also offer a special support with escort for children moving around the Oxfordshire and surrounding counties. We have a number of Nationwide clients where children stay with host families in different parts of England. Please email us your requirements at [email protected]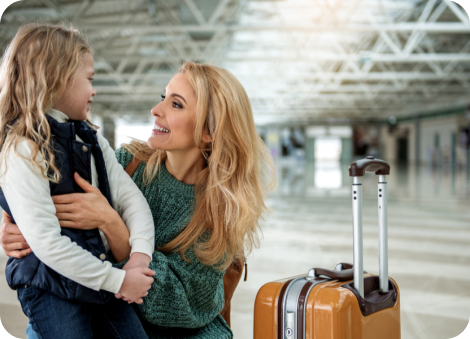 Host family support
We provide transport for their children from the school to the host family house and return on a Weekly, Quartey, and Monthly basis. Those children also require airport pickup and drop-off service. We bill the host family or UM parents directly after or before the service.